Huntley and Palmers biscuit factory strike centenary marked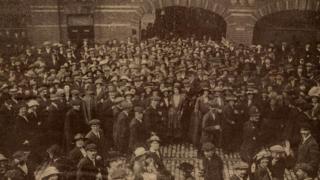 A town has commemorated 100 years since female workers at its biscuit factory walked out in a landmark dispute over pay.
The 1916 strike at Reading's Huntley and Palmers also saw women and girls from the factory spoil biscuit mixture and throw biscuit tins into the river.
They were angry at unfair treatment and low pay. Their action won them a three shilling-a-week pay rise.
A re-enactment of the event took place in the town.
An exhibition charting the work of the factory during World War One has also gone on display at Reading Museum to mark the anniversary.
It features war ration biscuits, tins, archives and images.
Keith Jerome, of Reading TUC which organised the re-enactment in King's Road Gardens, said low wages were a major problem for the workers.
"In 1911 Reading University College had demonstrated that there were 15,000 children living in Reading in primary poverty, and the reason being the wages paid by Huntley and Palmers - and that had clearly come to a breaking point," he said.
The strike followed the dismissal of 16 colleagues following a dispute with a forewoman.
The dismissed women were later reinstated and the National Union of Gas Workers and General Labourers, together with the action of the strikers, successfully won higher pay for all grades - including men and boys.
Brendan Carr, from the museum, described the dispute as a "landmark case" and one which was a "continuation of an approach that was brought through the suffragette movement".
"Women were seizing opportunities and trying to gain a level of emancipation," he said.
He added it was "absolutely essential" women carried out the work as 1,833 men from the factory went to war and 145 were killed in action.