AWE Burghfield anti-Trident protesters mark final day of campaign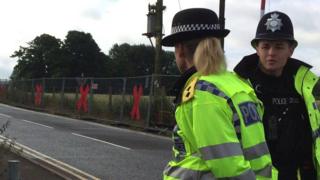 Anti-trident campaigners are marking the last day of a month-long protest at a nuclear plant in Berkshire.
The peaceful protest at AWE Burghfield saw a group of campaigners form a human blockade - closing one of the roads and numerous entrances to the site.
Red crosses were tied to fences around the plant on Thursday to demonstrate "resistance to continuing proliferation nuclear weapons" in the UK.
Up to 50 police officers are deployed to the site on the final day.
Dozens of extra officers from the Thames Valley and Hampshire have assisted the Ministry of Defence (MOD) to maintain security at the plant since protests began at the start of June.
The MOD refused to reveal how much the large-scale security operation cost.
"We have worked closely throughout the month with local police to implement coordinated security arrangements both to facilitate peaceful protests and to minimise any impact on AWE and the local community", an MOD spokesman said.
AWE Burghfield makes warheads for the nuclear weapons system carried by Royal Navy submarines.
Trident Ploughshare, which organised the "Burghfield Lockdown", said the protest aimed to bring "work on Trident warheads to a halt".