Sewage floods gardens after heavy rain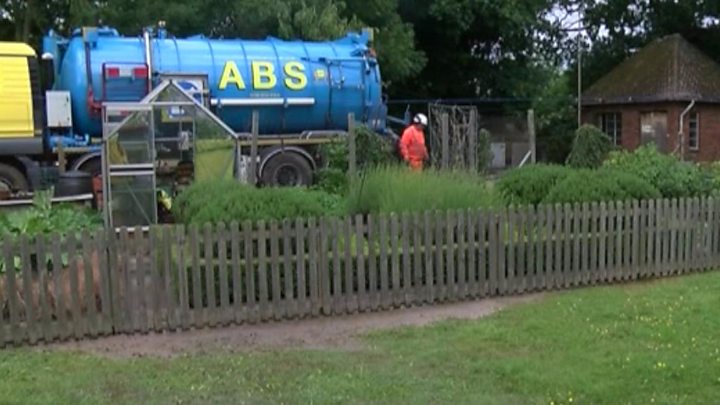 Homeowners in a Berkshire village have been told not to use gardens that were pumped with untreated sewage following a "technical fault".
The gardens of a number of properties in Three Mile Cross were flooded with waste after heavy rainfall last week.
Thames Water said affected land should not be used for around 10 days.
One resident claimed that 270 new homes in the area could have contributed to the pumping station becoming faulty.
Gill Browning said: "There are now 270 more houses which go into it [the pumping station].
"If we're going to have to live without a garden because of sewage every time we have a heavy rainfall, I think we're going to have a pretty bad year."
Thames Water said it has fixed the pump but added gardeners will have to wait a year until they can grow garden crops.
A spokesperson added: "We're currently investigating if there is anything else we can do to reduce the risk of this happening again.
"While our investigations are ongoing, we have two tankers on standby to make sure the pumping station copes with any further heavy rain.
"We would recommend keeping off flooded areas for approximately 10 days at this time of year - this is long enough for the ultraviolet light in sunlight to kill off bacteria."