Convicted rapist Jimmy Dyer's jail sentence appeal rejected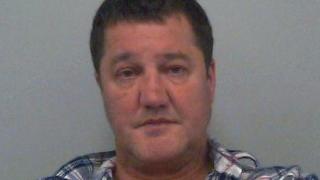 A convicted rapist has lost his appeal against his eight-year sentence.
Jimmy Dyer abducted a teenage and raped her in the early hours around Tilehurst, Reading, in October 1988.
The 56-year-old was eventually convicted of the assault in 2014, but his legal team questioned the length of sentence at the Court of Appeal.
A judge said the sentence was justified because Dyer's acts had "cast a blight over the victim's life" and its impact had been "undoubtedly terrifying".
Dyer was not convicted of the rape of the young woman who was aged 18, but after a cold case review his DNA was found to match evidence taken in 1988.
Dyer, of St Georges Street, Northampton, admitted raping the woman when he appeared at Reading Crown Court, but his lawyers claimed the sentence was unduly harsh.
But in a statement to the Court of Appeal, the victim said the attack had come to "define her entire life".
Mr Justice Edis said: "This offence continues to cast a blight over the victim's life.
"We also consider there was a degree of abduction here and some violence. The impact on her was undoubtedly terrifying."