Paralympian Simon Goodall's 'nightmare' Reading crossing fight fails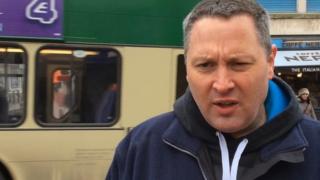 A former Paralympian angry that traffic lights have been turned off at a Reading crossing has lost the right to challenge the borough council's decision at a judicial review.
The St Mary's Butts, Broad Street, Oxford Road and West Street crossing switch-off began in January 2015.
Simon Goodall, who has lost most of his sight, described it as a "logistical nightmare".
The council said the move had eased traffic congestion.
Mr Goodall, from Wokingham, who was part of the British goalball team at the London 2012 Paralympic Games, was initially refused permission for a judicial review at a High Court hearing in March - a decision which has now been upheld at the Royal Courts of Justice.
He said he had been forced to ask sighted pedestrians at the junction for assistance to cross the road since the lights were turned off.
He added he also had concerns for the elderly and disabled people using the crossing, as well as people with pushchairs.
Mr Goodall described the court's decision as a "dark day" for visually impaired people.
"It's a shame people can't see the real difficulties that people like myself have," he said.
Reading Borough Council said it "robustly" defended the move, which initially began as a six-month trial and aimed to cut transport journey times at the junction - which it had said was used by 2,000 buses each day.
Mr Goodhall now has seven days to lodge an appeal to the Court of Appeal.
He said his fight was "not over yet".