Reading third bridge 'crucial' to town's development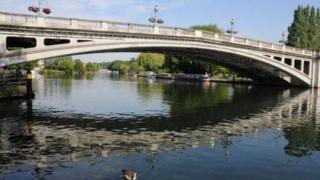 A third bridge across the river Thames in Reading "is crucial" for the area's development, according to one of the town's MPs.
Reading East MP Rob Wilson said he remains committed to a third road bridge in Reading, despite concerns from Oxfordshire councils.
The predicted cost of the bridge, which has been mooted for four decades, is around £100m.
Some claim an additional crossing would lead to more lorries on rural roads.
Bridge 'will add congestion'
Mr Wilson said: "I remain committed to delivering a third Thames bridge. [It is] crucial for Reading's competitiveness and continued economic development."
Currently there are three bridges in Berkshire where vehicles can cross the river - two in Reading and one in Wokingham borough.
The MP hopes that the bridge will get approval between five and seven years.
But South Oxfordshire District Council leader John Cotton has said he is concerned that the new bridge could create a rat-run for lorries which would usually travel on the A34 and M40.
He said: "It's not just the diversion of what could have gone through the centre of Reading and Caversham Bridge, it's new traffic [I'm worried about]."
Mr Wilson said that the business case for the new bridge is strong, and the team leading the drive for the project would bid for more money from the Department of Transport.
The suggested area for the third bridge is in the A3290 area, and over the river to Caversham.