Passengers frustrated by three-year delay to rail station upgrades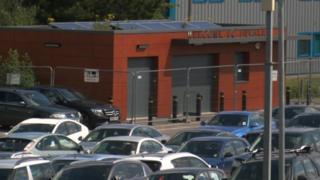 Work to complete a delayed project to upgrade step-free access to a station will not commence until the autumn.
In 2013 Theale Station, in Berkshire, embarked on a £2.9m project which would have produced a new ticket office, lifts and footbridge for passengers.
But nearly three years on the plans have stalled because Network Rail and Great Western Railway have had to revise plans for the station upgrade.
The area's MP has been told work could continue before the end of the year.
'It's quite dangerous'
Mother and passenger Emma Griffith has had issues with the lack of step-free access when transporting her one-year-old boy in a pram up the current footbridge.
She said: "I have to carry my little boy in the top-half of the pram, leave him at the bottom of the stairs strapped in, and then go up the stairs to get the bottom of the pram. It's quite dangerous."
The delays were caused by legal problems between Great Western Railway and Network Rail, meaning the contract for the work had to be re-tendered.
Timeline of events - Theale Station upgrade
May 2013 - A £2.9m redevelopment project at Theale Station is announced
October 2013 - Work begins on the new footbridge, lifts and ticket hall, with the upgrades due to be completed in February 2014
January 2015 - Legal issues after Network Rail became publicly-owned means the contract to complete upgrades at Theale need to be re-tendered
January 2016 - Network Rail and GWR begin to revise plans for the station, in the hope they can put the contract out to tender
May 2016 - Reading West MP Alok Sharma says he has reassurances that the work should continue in the autumn
Reading West MP Alok Sharma said: "If you were planning a project this would be an example of how not to do it.
"The project got caught up with the reclassification of Network Rail as a public body."
But Mr Sharma said the Department for Transport is hopeful the project will continue later in the year.
Both Network Rail and GWR said they were committed to resolving the issue "as soon as possible".