Naming ceremony for Reading's new £5.9m Christchurch bridge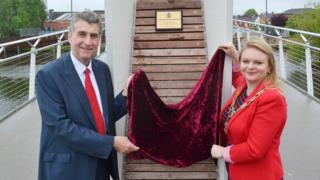 A new cycle and pedestrian bridge across the River Thames at Reading has been officially named.
The £5.9m Christchurch Bridge opened in September and links Caversham with Reading Station and the town centre.
Following a public vote it was named after Christchurch Meadows - the park where the bridge is located.
Tony Page, Reading Borough Council's lead member for strategic environment, said the name would "stand the test of time".
The land takes its name from Christchurch Cathedral, Oxford which owned the then farming land from 1716. It was eventually sold to the Corporation of Reading and was developed as a public park in the 20th Century.
Mr Page said: "When we began this process we were keen that the name should have a historical connection and one relevant to its surroundings."
The 400ft (120m) bridge, funded by Reading Borough Council, is made of 455 tonnes of steel, is supported by 14 pairs of cables and has a mast made in the Netherlands.
The naming ceremony was performed by Reading's mayor Sarah Hacker.