Campaign over 'dangerous' Reading road junction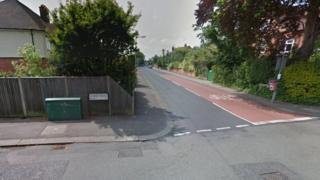 Campaigners are demanding immediate action at a road junction in Reading following the death of a pedestrian.
The 72-year-old man died after he was injured during a two-car crash in Albert Road at the junction with Highmoor Road, Caversham, on Saturday.
Residents said they had been campaigning for improvements at the site for some time.
Previous proposals for the junction have been turned down by both residents and the council.
Council reports show plans for a T junction at the site were turned down by residents during a consultation in 2014.
Last year, recommendations to give drivers on Albert Road priority were rejected by the council committee.
'Multiple accidents'
Local resident Mike Johnson has urged the council "to act really quickly because this keeps on happening".
"It's not just the odd one or two accidents, there's multiple accidents there every week, every month," he added.
Lucy Holt, who also lives nearby, said a death at the site had been an "inevitability".
"You just knew at some point somebody was going to get hit," she added.
Campaigner Jeff Taylor said: "I'd like to see some speed humps either side of the junction and a 20mph zone for the whole road.
"Until we slow people right down at that junction we're going to keep on having these accidents."
In a statement, Reading Borough Council said: "As with any fatal accident, we will look in detail at the police report when it is available, and the circumstances of the accident, before considering any further action that may be necessary."