John Keeley steam and traction engines fetch £1.5m at auction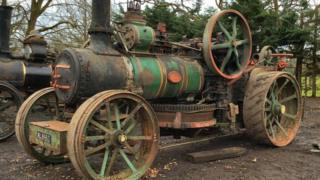 A collection of 600 rare steam and traction engines has sold at auction for £1.5m.
Many of the Keeley collection of engines, dating back to the 17th Century, were sold to private buyers in the UK during the auction in Knowl Hill, near Maidenhead.
Steam enthusiast John Keeley, who died in 1999, acquired the engines over a number of years.
He ran Berkshire's Knowl Hill Steam and Country Show for more than 30 years.
The sale included 15 steam engines, 50 tractors, 50 commercial vehicles, as well as steam-powered ploughing equipment and memorabilia, according to Cheffins auctioneer Jeremy Curzon.
"There are only about 3,000 steam engines in existence and to have 15 sold together in one day is unprecedented - it'll probably never happen again," Mr Curzon said.
Highlights of the sale included an "Otto" bicycle, which fetched £8,800, a 1928 Foden D Type tractor that sold for £140,000, an 1894 Aveling and Porter steam engine - said to be one of only three known worldwide - that went for £19,000, and a single cylinder Fowler from 1873, which fetched £58,000.