Wexham Park Hospital £49m emergency department plans to go on display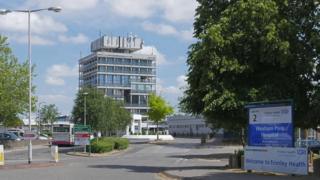 Plans for a new emergency department at Wexham Park Hospital will go on display later this month.
Frimley Health NHS Foundation Trust, which runs the hospital in Slough, will show plans for the £49m project at an event on 25 May.
Proposals include building separate children's and minor injuries units as well as 36 individual rooms for major injuries.
Visitors will also get the chance to listen to ideas about the development.
The proposal is part of a multi-million pound project to transform services at Wexham Park and Ascot's Heatherwood Hospital over the next few years.
If approved, construction work could start in spring 2017.
Frimley Health's director of HR and corporate services Janet King said the trust would "welcome public views on the scheme".
She said: "The new emergency department and assessment centre is the latest stage of our ongoing commitment to provide the highest standards of care for our patients."