M4 crash: Driver killed as lorry overturns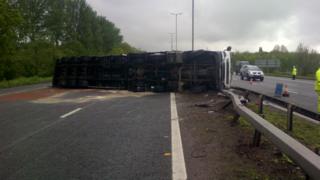 A 49-year-old lorry driver has died after his vehicle overturned on the M4 near Reading.
Police have closed the motorway eastbound between junction 13 and 11 and one lane is shut on the westbound side of the carriageway.
The eastbound closures have caused seven miles of tailbacks.
The lorry, which crashed at about 04:50 BST, went through the central reservation. The road is not expected to reopen until midnight.
The family of the lorry driver, who was from Essex, have been informed.
Thames Valley Police said the road closure will cause further disruption across the area, and have advised people to avoid the M4.
Drivers 'abandoned cars'
Highways England said work was ongoing to repair "significant damage" to the carriageway.
Two lanes are open westbound but traffic continues to move slowly.
The closure caused severe delays around Berkshire, with some drivers abandoning their cars.
Yvonne Hillier was doing the school run in Tilehurst, but after sitting in traffic for two hours she chose to leave her car at a supermarket car park and walk home.
She said: "It was incredibly stressful, the traffic was at a complete standstill with no sign of improving."
Motorist Emily Bevan said she was stuck on the motorway for seven hours and missed a day's work.
She said motorists had been given "very little information", adding: "There wasn't really anything on the matrix signs before I joined the motorway."