Rifles march through Reading in Freedom of the Borough parade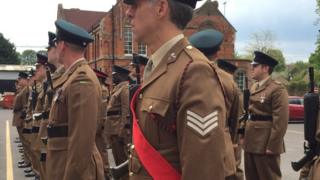 The Rifles regiment has paraded through Reading town centre to exercise the right to the Freedom of the Borough.
The Rifles was formed in 2007 following the merger of four regiments, including the then-named Berkshire & Wiltshire Regiment which was granted the honour almost 56 years ago.
The parade was held in honour of the regiment's recent tours of Afghanistan.
Up to 180 troops marched from Reading Minster to Broad Street.
Lt Col Graham Cox, the Commanding Officer of the 7 Rifles, said he was honoured to exercise the Freedom of Reading.
"Our bonds with the town have a long and distinguished history; the honour of parading is a significant one and one which Reading's Riflemen are deeply proud of," he said.
The mayor of Reading, councillor Sarah Hacker, said: "I'm delighted to grant The Rifles permission to exercise the Freedom of Reading. It was great to have a big crowd showing their support and appreciation of the courage and dedication of our local regiment."
The Rifles was formed following an amalgamation of The Devonshire & Dorset Light Infantry, The Light Infantry, The Royal Gloucestershire, Berkshire & Wiltshire Light Infantry and The Royal Green Jackets.