Tories and Labour retain Berkshire councils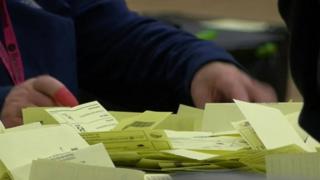 Labour and the Conservative Party have retained their grip on councils across Berkshire.
The Conservatives increased their majority in Wokingham to 58 after winning a seat from an independent councillor.
Labour retained both Slough and Reading councils with very little change.
The deputy leader of Reading Borough Council said the win was thanks to the "long stewardship of Labour in Reading".
'Depressing' turnout
A number of seats in Wokingham changed hands but the political make-up of the council remains broadly the same, with one gain for the Conservatives who took the seat of independent Nick Ray.
Leader Keith Baker said: "It's been a pretty successful night for the Conservative party... overall we're pretty pleased."
Incumbent Conservative for Charvil Ward Emma Hobbs said: "I'm very pleased that I've been elected.
"My first thing on the agenda is I have to start looking at the road and speed issues in Charvil."
Leader of Wokingham James Swindlehurst said a low voter turnout of 30.85% was "depressing" but was happy that Labour gained another seat, to increase its majority to 33.
He said: "We couldn't really have asked for a better night this evening.
"We're trying to deal with the housing crisis. [There's] a huge amount of housing we're trying to supply to help people who want to continue living here."
The only bruising moment for Reading's ruling Labour cohort was when Leader Jo Lovelock fell in her shower before the vote count.
She sprained her shoulder and cut her leg, but said she felt "much better" after an impressive result for Labour in Reading.
How the councils now look
Reading Borough Council:
Labour - 31
Conservatives - 10
Green - 3
Liberal Democrats - 2
Wokingham Borough Council:
Conservative - 48
Liberal Democrats - 5
Labour - 1
Slough District Council:
Labour - 33
Conservatives - 8
UKIP - 1