Church choir to celebrate roof repairs with towering concert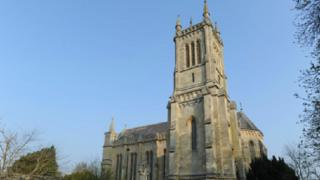 A church is to celebrate long-awaited repairs to its roof with a special concert - at the top of its tower.
Holy Trinity Church in Theale, West Berkshire, waited nearly a decade to secure funding for the roof renovation, which cost £85,200.
Now the scaffolding has finally been taken down, and the church will celebrate with a performance from its choir on top of the bell tower.
The concert, which will also mark Ascension Day, begins at 18:50 BST.
Parishioner Simon Webb plans to film the concert using a drone.
Reverend Ann Templeman said: "The whole of the roof needed to be repaired. It's a very exciting day for us."
The parish had been trying to raise funds for the work for almost a decade, eventually securing a government grant.