Suspected arson hits 10-acre forest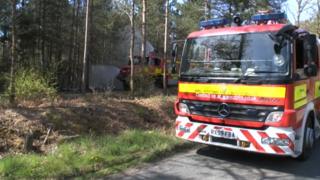 Firefighters are investigating whether a fire in a forest in West Berkshire may have been started deliberately.
Crews were called to the incident at 13:33 BST on Wednesday to reports of a fire in Burghfield.
It mainly affected undergrowth before the Royal Berkshire Fire and Rescue Service brought the flames under control.
Fire commander Michael Griffiths said he "cannot rule out arson" as the cause of the fire at the 10-acre forest.
"We are working with Thames Valley Police to ascertain the cause of the blaze," he added.