Council spending £10k subsidising Reading bike scheme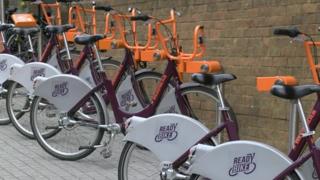 A council is paying £10,000 a month to subsidise a bike hire scheme after its government funding came to an end.
Reading Borough Council was given a £1.2m grant to establish the ReadyBike scheme in 2014, which ran out in March.
The authority is paying to keep the 200 bikes running and is "actively" seeking a sponsor to cover the scheme's costs.
The initiative, run by contractor Hourbike, has been met with criticism from cycling groups who claim it is a waste of money.
The council said it would be funded through existing transport budgets until March 2017 or until a sponsor can be found.
'Not accepting defeat'
The authority said although the scheme has proven highly popular, "in common with all cycle hire schemes throughout the country, income generated by the scheme does not cover the full costs of operation".
Planning and transport councillor Tony Page said: "The subsidy cannot continue beyond the end of March 2017.
"I'm not accepting defeat, I hope we can secure a good sponsor by the end of this year."
'Rarely used'
The scheme was funded from June 2014 to 31 March as part of a £25m government grant.
Reading Cycling Campaign chairman Adrian Lawson said the bikes are "very, very rarely used".
"It's an awful lot of money which could have been better invested."
Figures show about 70 bikes are hired from the town's 29 docking stations at a cost of £1 per hour.