Berkshire children 'wait a year' for autism assessments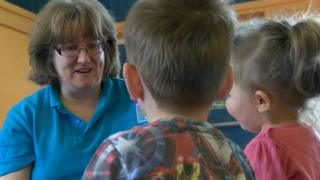 Children in Berkshire who may have autism have to wait an average of more than a year to be assessed by professionals.
Waiting times have increased nearly three-fold since 2013, with the worst case waiting 122 weeks.
Autism charities have claimed the longer waiting times could cause issues in children's "development".
Berkshire's health trust said more staff have been recruited for children's assessments.
'You're just left'
According to the National Institute for Health and Care Excellence guidelines, the wait between referral and diagnosis should be no longer than three months.
But across England the median waiting time is 13 weeks, with many areas exceeding that, a Public Health England report in January found.
In 2015, children in Berkshire had to wait an average of 53 weeks for an assessment, figures from Berkshire NHS Foundation Trust showed.
Alexandra Smith, whose daughter may have autism, said: "Once you're referred and you're on the waiting list, actually you don't get any support during that time.
"There's nothing... you're just left. I've been told it's a 24-month wait. "
Charities like Autism Spectrum Disorder (ASD) Family Help are concerned a lack of early intervention will result in children being "dependent on society for a longer period".
Chairwoman Loraine Fraser, said: "The sooner they get help, the more opportunity they have to progress to their best possible potential."
Louise Noble of Berkshire NHS Foundation Trust, said: "We know that the waiting times are far too long, we find that unacceptable and we know that that's not OK for the families that we're working with.
"We've been able to bring in additional staff to our teams, and since the beginning of this year we've started to see the waiting lists turn in the right direction."