Ufton Nervet level crossing: Rail bridge construction begins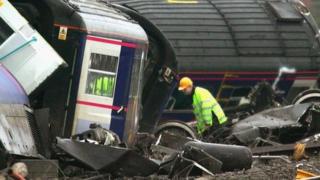 Work to replace a Berkshire level crossing where 11 people have died in the past 12 years has started.
Seven of the Ufton Nervet crossing deaths were in 2004 when a motorist parked his car on the tracks in the path of an oncoming train.
Construction of a bridge has now begun following years of calls for the crossing's removal by campaigners.
Network Rail has faced criticism in the past for not starting the work sooner.
A memorial garden dedicated to those who died in the 2004 crash has already been moved as part of works to erect a bridge at the site.
Members of a survivors' group consisting of some of the 140 people injured in 2004 attended a ground-breaking ceremony to mark the start of construction.
Survivor Jane Hawker said the bridge would be "a form of closure", while Julie Lloyds described it as a "blessing".
"There's a lot of ghosts, one way or another, belonging to this area and let's hope it's going to let them all lay to rest, without any others joining them," Ms Lloyds added.
West Berkshire District Council approved the bridge plans in August, with construction expected to be completed by the end of the year.
The rail operator has previously described the site as "complicated and constricted".
Brian Drysdale killed himself and six people on board the train when he parked his car on the tracks.
---
Paul Clifton, BBC transport correspondent:
It has taken almost 12 years to start removing the crossing where 11 people have died since 2004.
Network Rail has closed hundreds of level crossings, but this one was not near the top of the priority list because the road is a lightly-used country lane.
The bland traffic statistics suggest it is not one of the highest-risk locations, yet it is a uniquely emotive level crossing.
A small memorial garden, tended by crash survivors, stood beside the crossing but it has been moved to make way for the bridge.
Yet the survivors will see a new bridge as a much more fitting mark of respect to those who died.
And people who live in this charming corner of Berkshire will be delighted when the name Ufton Nervet is no longer synonymous with one of the most terrible crashes in decades.
---
---
The people who died in the 2004 crash
Barry Stevens, 55, from Wells, Somerset
Anjanette Rossi, 38, from Speen, Berkshire
Her nine-year-old daughter Louella Main
Train driver Stanley Martin, 54, of Torquay, Devon
Emily Webster, 14, of Doccombe, Devon
Charlie Matthews, 72, of Warminster, Wiltshire
Brian Drysdale, 48, of Reading, Berkshire
---