'No confidence' in University of Reading vice-chancellor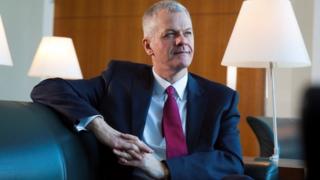 Reading University's vice-chancellor is no longer fit for the job, staff have decided in an online vote.
Nearly 90% of staff who took part - 1,071 of about 4,500 staff - backed a vote of no confidence in Sir David Bell and planned efficiency measures.
The University and College Union (UCU) said the result showed the strength of opposition to the cost cutting plans.
However, the university said it would not apologise "for taking tough decisions and choices".
A total of 1,213 votes were cast in the poll.
About 4,500 people work at the university when taking into account full and part time staff.
Paul Hatcher, UCU branch president, said: "Staff are worried about the review and its impact on students, jobs and working conditions.
"Delivering an excellent student experience depends upon a team working together, and academic-related and support staff are a vital part of the university workforce.
"It's time for the management of the University of Reading to start listening to concerns raised by staff."
In a letter to staff, Sir David admitted "engagement could, and should, have been stronger" and "important lessons... must be learned for the future".
"There have been no credible alternative plans put forward on how we put our long-term finances in order, without major cuts to academic activities," he said.
'No backward step'
A university spokesman said: "We can't stand still if we want to remain one of the UK's leading research-intensive universities and continue to offer top-class taught degrees.
"We've not going to take a backward step now."
The university said cuts will save £15m a year and reduce its deficit, with compulsory redundancy numbers "in the low tens".
In addition, 88 staff have accepted voluntary redundancies, with a further 20 yet to make a decision, and 15 who have applied but not yet had an answer.