Smith's Lawn airfield memorial unveiled by Duke of Edinburgh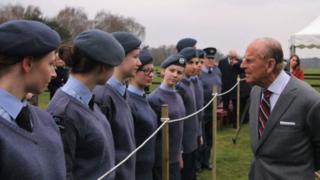 A memorial on the site of a disused Berkshire airfield has been unveiled by the Duke of Edinburgh.
The marker at Smith's Lawn in Windsor Great Park is part of a scheme to recognise work done there.
The grass airfield was set up in the 1920s and used by the then Prince of Wales (later King Edward VIII) as his own airfield.
Prince Philip took off on his first solo flight from Smith's Lawn in 1952.
The Airfields of Britain Conservation Trust is attempting to erect memorials at every known disused airfield site in Britain.
It described sites as "phenomenally brilliant places which have benevolently revolutionised everyday life."
During World War Two Smith's Lawn was used by plane makers Vickers-Armstrongs after a major Luftwaffe attack on its main base at Brooklands, Surrey in 1940.
It was also used as a relief landing ground for RAF Tiger Moth trainers and as a base for American military transport aircraft.
Prince Philip made his first solo flight from Smith's Lawn in a de Havilland Chipmunk in December 1952, despite the airfield having been closed since 1945.
The duke was also the last person to officially fly from the airfield early in 1953.