Thatcham flood reservoirs: £4m to complete defences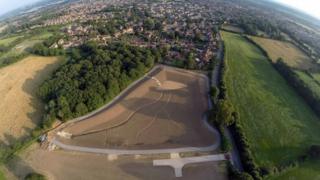 Flood defence reservoirs in Berkshire are to be completed 11 years after a devastating storm with the help of a £4m government grant.
In 2007, 1,000 homes in Thatcham were damaged by 4ft (1.2m) of floodwater following a "one in 100-year storm".
The money will allow West Berkshire Council to complete a reservoir at Dunstan Park in 2017 and another in south east Thatcham in 2018.
A reservoir at Cold Ash Hill - the first of four - was completed in 2014.
Another is under construction at Tull Way.
Highways councillor Garth Simpson said: "This cash will now enable us to complete the major elements of the flood protection programme for Thatcham.
"The impressive effort made by the Thatcham Flood Forum and local partner organisations to raise around £122,000 has been a vital element in receiving the grant.
"This contribution undoubtedly strengthened West Berkshire Council's application for the government funding through the Environment Agency."
Donations to the flood forum, which was set up to help residents after the 2007 floods, came from Thatcham Town Council, West Berkshire Council, local businesses and organisations as well as personal contributions.