Anger after Newbury man spends three months in hospital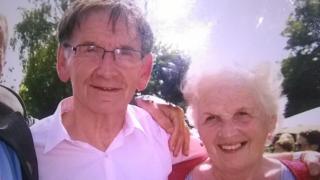 The family of a man who has waited more than three months to be discharged from hospital after falling over have spoken about their frustration.
Roy Llewellyn, 73, who has Alzheimer's, was admitted to West Berkshire Community Hospital after a fall before Christmas.
He has remained there since although he is now set to be discharged.
The council said the required home care package was "large and complex" and therefore "took time to set up".
'Taken its toll'
Mr Llewellyn's family, from Newbury, told the BBC the situation was "absolute hell" and said his health had deteriorated rapidly because of the delay.
His son David said: "There was no physiotherapy available over the Christmas period to help with his recovery. Because of this, he become immobile to the point where he can't feed himself.
"The situation has been absolute hell, especially for my mother who has spent eight hours a day at the hospital for four months.
"It has really taken its toll on the whole family."
The family said social workers needed to secure four home care visits a day before Mr Llewellyn could be discharged.
David Llewellyn said: "They couldn't find the carers to do it and they were adamant of having one care company to do all visits. I just don't understand why it took so long."
A joint statement from West Berkshire Council and Berkshire NHS Foundation Trust said: "The care package for Mr Llewellyn has been sourced and agreed with his family.
"This particular care package is large and complex and has therefore taken time to set up to meet Mr Llewellyn's specific needs."
A recent review suggested up to 5,500 patients a day in England are affected by so-called bed-blocking.
Mr Llewellyn is due to be discharged from hospital on Wednesday.