'Downton Abbey' Easter egg hunt off due to wet winter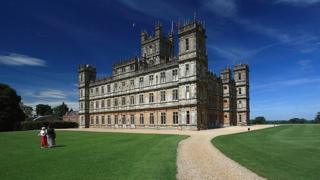 An annual charity Easter egg hunt in the ground of the castle used as the location for Downton Abbey has been cancelled to due a long, wet winter.
Lady Carnarvon of Highclere Castle, near the border of Hampshire and Berkshire, said: "I am so sad.
"Unfortunately with our winter rain fill, it has rained and rained, we have duck ponds rather than grass fields."
The event, which has been going for a decade, is usually held to raise money for Naomi House hospice.
'Easter is so early'
Lady Carnarvon said: "I started it as a girlfriend, who lives in Belvoir Castle, said she did one and I thought, what a good idea.
"I visited Naomi House hospice and thought, what a fantastic charity, that's why I began it.
"We have raised quite a lot of money for them over the years."
She said last year there were "thousands" of cars, which would not have been able to park on the wet ground.
She told BBC Radio Berkshire: "We realised in December there was no way it was going to dry up, as Easter is so early.
"Hopefully we can do it next year as Easter is later. Then we can really have a wonderful day again."