Reading council housing firm 'will cut B&B use'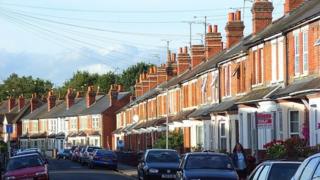 A housing firm is to be set up in Reading to help reduce the number of homeless families it places in bed and breakfast accommodation.
Councillors are to consider on Tuesday the creation of a firm, owned by the borough council, that would be run separately from its social housing stock.
Proposals include the purchase of 100 properties a year for five years.
The authority said the property firm would help it reduce its housing costs.
Housing councillor Richard Davies said: "Demand for affordable housing significantly outstrips supply and private rents are generally well above levels that are affordable for many people on low incomes.
"This has resulted in the council being forced to increase the use of bed and breakfast accommodation to place homeless households, which is unsuitable for families and expensive for the council."
Initial plans would involve the firm buying homes to rent in the Reading area, but its work could be extended to building homes for rent and sale.
In January, the number of people waiting for a council property in Reading was at its highest for 20 years.
Council figures showed there were 22,635 people on the council house waiting list.