Broadmoor Hospital sirens 'not as good as Twitter'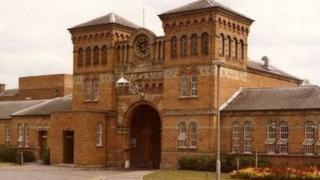 "Outdated" warning sirens around Broadmoor Hospital are being scrapped because Twitter is more effective at alerting the public, a trust has said.
West London Mental Health Trust, which runs the high-security psychiatric facility, said the sirens, which sound when patients escape, were too costly.
It said TV, radio, and social media were faster and more reliable.
The estimated cost of replacing and maintaining the current sirens is more than £500,000.
Each siren is tested every Monday at 10:00 and were last activated in 1993.
They were installed in 1952 after Broadmoor patient John Straffon escaped for 24 hours and killed a young girl in Farley Hill, Berkshire.
Since then, a second perimeter fence has been added, as well as additional alarm and control systems.
There are 13 satellite sirens in areas including Sandhurst, Wokingham, Bracknell, Camberley and Bagshot.
Broadmoor is currently undergoing a £242m overhaul in a bid to move away from its image as an outdated Victorian institute.
A trust spokesperson said: "The public should not be concerned that the sirens will be decommissioned.
"The significant investment in security systems we're making in the new high secure hospital is aimed at maintaining public safety.
"We conduct contingency exercises with the local authorities from Bracknell Forest, Surrey Heath and Hampshire County Council, as well as Thames Valley Police."
The decision follows a consultation with local parish councils and Bracknell Forest Council's oversight and scrutiny committee.
It is thought the sirens will be decommissioned in 2018 and that a new alarm installed within the hospital grounds will not be audible to residents.
Broadmoor has about 200 patients, including Yorkshire Ripper Peter Sutcliffe.