Hungerford Primary School expansion postponed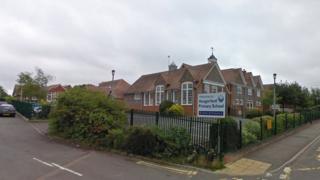 The planned expansion of a primary school in Hungerford has been postponed because of a lack of funds.
West Berkshire Council is holding back the project at Hungerford Primary School because of "financial challenges".
It wants to increase the annual intake from 56 pupils to 75 pupils.
But it said because applications for fewer than 60 pupils were in for September, the level of urgency to expand had reduced.
A council spokesman said the postponement would be for at least a year as "capital investment in schools is supported by council borrowing and with the council borrowing less money there is an impact".
He added: "Hungerford Primary School and West Berkshire Council are continuing to work closely together to ensure the school will have the capacity it needs in future to allow all Hungerford children to have a place at their local primary school if they so wish."
A smaller programme of improvement works will still take place over the summer to improve essential facilities at the site.
The authority is currently seeking to save £20m over the next four years.
At a meeting on Tuesday councillors approved the latest round of cuts, including to school buses and children's centres.