Broadmoor Hospital care will move 'seamlessly' to new building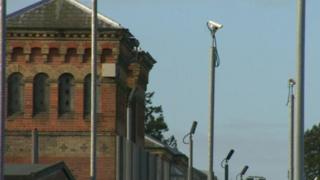 Care will be "switched seamlessly" when a new building for Broadmoor Hospital is open next summer, the chief executive has claimed.
A Care Quality Commission report last year said "urgent" changes needed to be made due to the "overuse" of face-down restraints on patients.
Chief executive Carolyn Regan said practices had been reviewed.
Building work at the site is due to be completed in mid-2017 and will mean patients spend more time in therapy.
'Slow progress'
Ms Regan, chief executive of West London Mental Trust, said strides have been made at the high-security hospital "to reduce the restraint and seclusion of patients".
"We have filled all the health care assistant vacancies and we have re-built the hospital.
"Staff morale has improved and they are excited about the new developments at Broadmoor.
"We will keep continuing the best quality of care then we will switch seamlessly to the new environment."
After the report in September last year the CQC inspectors said low staff levels and low morale were affecting safety and the quality of services.
Mental health charity SANE has said the trust seems to be "making slow progress".
Marjorie Wallace, chief executive of SANE, said: "It's important that they get the culture right, it's not all about the resources at Broadmoor - but it's about the right culture for staff."
"The results of the last report were very disturbing to behold - particularly the findings on the restraints. It seems they are making slow progress."
Broadmoor is currently undergoing a £242m overhaul in a bid to move away from its image as an outdated Victorian institute.