West Berkshire Council approves cuts to services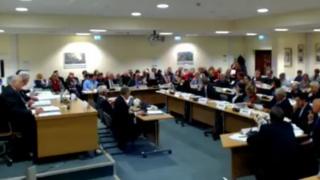 Councillors have approved cuts to several services in West Berkshire including school buses and children's centres, as the authority seeks to save £14m in the next financial year.
The move follows a consultation on 47 proposed cuts.
Council leader Roger Croft said it was with "heavy heart" that he asked councillors to accept the proposals.
The Conservative-run council has warned cuts would have "significant implications" for staff.
About 130 employees are at risk of redundancy, the authority said.
Deputy leader Graham Jones told attendees: "I've never been in such a difficult meeting where we'll be making such difficult decisions."
He admitted: "The choices are awful."
Mr Croft said transitional funding would be used to help communities develop new methods to save services.
The total saving for the home to school transport cuts, which affect areas including Mortimer, Bucklebury and Gidley Wood, is £387,100.
Some parents of about 230 affected pupils in Mortimer had said they would have to give up their jobs for the school run rather than have their children walk the "dangerous" route.
At the full council meeting, councillors also approved a 1.99% council tax rise, and agreed a 2% ring-fenced adult social care precept be applied - which it said enabled it to reduce the savings requirement from £19m to £14m for 2016/17.
Other agreed savings include the closure of four children's centres.
A consultation is under way on a second set of planned savings, including axing some public bus and library services.
It runs until 7 March, with a final decision due at an executive committee meeting on 24 March.