CircleReading hospital art gallery opens to public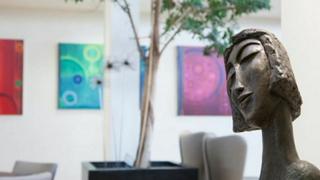 An art gallery set up to help the recuperation of patients at a Reading hospital is being opened to the public.
Art Scope Gallery at CircleReading hospital displays 120 pieces of contemporary paintings and sculptures by local artists in an atrium space.
Curator Rukshi Brownlow said the artwork provided a "therapeutic experience" for patients and visitors.
The gallery is being opened to the public as part of the town's 2016 Year of Culture.