Sheffield Lock at Theale drained for brickwork repair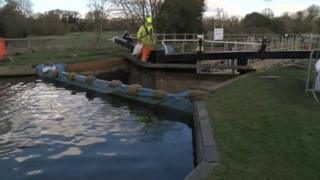 An 18th Century canal lock in Berkshire has been drained to allow repair work on its unusual curved brickwork.
New timber supports are being added to Sheffield Lock on the Kennet and Avon Canal near Theale.
The 298-year-old lock is a scheduled ancient monument and is believed to be one of only two in the country with scalloped chamber brick walls.
It has been opened to allow members of the public to view the brickwork during an open day.
Sheffield Lock is believed to have been originally constructed with turf sides, but scalloped chamber brick walls were added later in the 18th Century.
A specialist spider crane is straddling the lock chamber to lift the new wooden king posts into position as part of the seven-week restoration.
Florence Salberter of the Canal and River Trust said the lock had been built in a "slightly odd fashion".
"Over the years it has been rebuilt with the curved scalloped wall - we don't really know why they decided to do it with a curved wall.
"So you don't see a lock which is entirely 300 years old, you see a lock which has gone through various phases. That's even more interesting, you can read the changes."
The work is being carried out as part of a £2.5m maintenance programme on the Kennet and Avon Canal.