Organisers say full Reading Carnival 2016 will not go ahead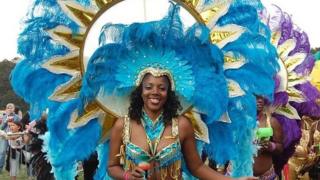 For the second year in a row there will not be a full Reading Carnival held in the town, organisers have said.
The carnival has been run by Reading's Caribbean community since 1977 but was cancelled last year after organisers failed to apply for a licence.
This year the new Reading Caribbean Cultural Group is hoping to hold a smaller event in Prospect Park.
But group member Sonia Walker said without the traditional procession it would be wrong to call it a carnival.
She said even the stripped-down event going ahead was "very dependent on a lot of factors", and added: "I wouldn't call it a carnival without a procession."
Ms Walker said: "We are a very new group. This is new to us so it's a steep learning curve."
In 2013, the carnival was cancelled due to lack of resources, and in 2014 it was cut back to four floats in the parade and no costumes.
A previous highlight in Reading's event calendar, the carnival attracted up to 5,000 people in past years.