Groundskeeper drowned in river after being hit by tree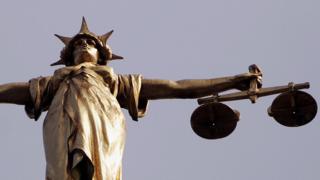 A groundskeeper fell into a river and drowned after being hit by a branch from a storm-damaged tree he was working on, an inquest has heard.
Self-employed handyman Paul Self was found in the River Enborne in Berkshire in November last year.
He was on a ladder cutting down damaged branches when he was struck by a "huge" branch, according to a witness.
The coroner ruled he was knocked unconscious by the branch and subsequently drowned near Newbury.
'Loved outdoors'
The 48-year-old worked for 10 years at Adbury Springs in Newtown, and the owner of the property Julie Marsden discovered his body.
At the Basingstoke inquest she said: "The branch that hit him was huge. I looked down the slope and I saw him, he was lying in the water right by the fallen branch."
Mr Self's widow Karen added: "He just loved the outdoors, that's where he loved to be."
Coroner for North Hampshire Andrew Bradley recorded a verdict of accidental death.
He said: "The only comfort I can give you is he was unconscious because that is the only way he could have drowned.
"It's a matter of sadness, it's in just a twinkling, he was with you in the morning and he's not with you in the evening and that's just what happens."