Queen's 90th birthday party: Free tickets open to public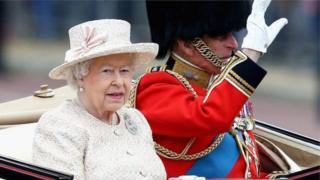 A draw to win free tickets to the Queen's 90th birthday celebrations has opened to the public.
Up to 5,000 places are available on The Long Walk at Windsor Castle on the final night of festivities on 15 May.
Half of the tickets will be drawn from local Windsor residents.
Seated tickets for the show - which will feature 900 horses and 1,500 participants - sold out in November, but now the public can apply for a place at a pre-performance party.
The ballot will close on 14 March.
Star guests
A spokesman for organisers HMQ90, said: "The Long Walk evening is expected to have a great party atmosphere for the 5,000 ticket holders with food stands, picnicking opportunities and entertainment to enjoy against the stunning backdrop of Windsor Castle."
The four-night show will tell the story of the Queen's life and include performances from famous artists including singer Katherine Jenkins.
Members of the public can apply for up to four tickets and can register online at www.hmq90.co.uk
Winning applicants will be notified by email at the end of March.
The Queen celebrates two birthdays each year, her actual birthday on 21 April and her official birthday on a Saturday in June - this year on 11 June.