West Berkshire Mencap children's services plan 'will cut lifeline'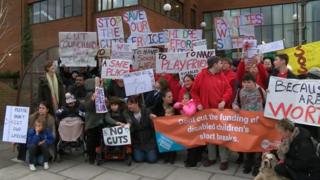 Proposed cuts to respite care services for disabled children would cut a "lifeline" for users, campaigners have said.
Funding for most of Mencap's children's services in West Berkshire would be withdrawn under 38 budget proposals.
Dozens of parents and children handed in a petition to the authority following a protest outside its Newbury office on Thursday.
The council has to save £20m over the next four years.
Almost £11m will need to be found in 2016/17, the authority said.
All Mencap's school and youth clubs and holiday respite care schemes would stop under proposed cuts.
More than 3,500 people have signed a petition against the move, which was handed to the council during an executive committee meeting.
Parent Helen Franklin said the service was a "lifeline". She added: "It gives me and my son time to spend some time together - to help him with his homework, or to go on a day trip," she said.
Council leader Roger Croft has previously said: "The decision to proceed with these savings is not one we have taken lightly but the truth is that we've been left with no other option."
Due to changes to government funding, he said there had been a "seismic shift" in its financial position "and we are now forced to take these savings".
A final decision on 38 proposed cuts will be made at a full council meeting on 1 March.