Reading's South Street Arts Centre gets £500k grant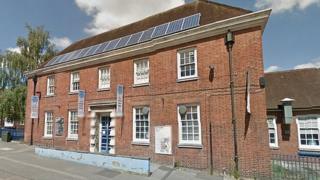 A Reading arts centre has been awarded a £500,000 grant despite threats of closure because of council budget cuts.
South Street Arts Centre was awarded the money by Arts Council England in the wake of a community campaign and petition to save the venue.
Reading Borough Council, which runs the centre, welcomed the news but needs to make a decision on whether to accept the funding as it seeks to save £51m.
Reading West MP Alok Sharma called the grant "a big boost" for the town.
'Severe cuts'
Reading is currently celebrating a year of culture, which is sponsored by the council, and with some events held at the arts centre.
Campaigner Wendy Thomson said: "It's not over yet...full pressure from us is needed on the council to save our arts venue."
Council spokesman Oscar Mortali said the announcement the funding bid was successful would be "taken into consideration in future budget discussions".
"As is widely known, the future of South Street Arts Centre is one of many budget savings the council is having to consider as a result of severe and unprecedented government cuts in funding," he said.
More than 8,000 residents signed an online petition when a proposal to close the centre was announced in July last year.
Reading West MP Alok Sharma welcomed the announcement, calling it a "big boost to our town as we seek to capitalise on the year of culture".
Arts Council England awarded £2.3m to seven organisations across the South East.