M4 'smart motorway' environment hearings begin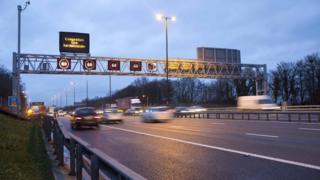 Hearings where supporters and critics will discuss environmental concerns over a so-called "smart motorway" on a stretch of the M4 are under way.
Highways England wants to see the hard shoulder used as a traffic lane for about 32 miles (51km) between junctions three and 12.
Issues such as the noise, vibration and the working hours on the £800m scheme will be discussed.
Reading Borough Council has raised safety concerns over the plans.
The authority said it would lead to more congestion on surrounding roads.
The hearings will take place over three days at the Holiday Inn, Maidenhead.
Similar schemes
Smart motorways use technology to manage congestion and control traffic speeds, which the Highways Agency says will improve journey times.
Similar schemes already operate on stretches of the M25, M1, M42 and M6.
The plans for the scheme are currently being examined by the Planning Inspectorate.
It is expected to complete its examination of the proposals on 3 March.
If it goes ahead, the scheme will be completed by 2022.
Anyone wanting to attend a session needs to contact the Planning Inspectorate.