Newbury author Robert Harris attacks library cuts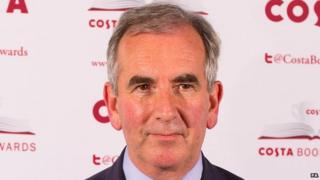 Best-selling author Robert Harris has branded proposals to close all but one of a county's libraries as "foolish".
Conservative-run West Berkshire Council has proposed shutting down several small libraries as part of £18.9m cuts next year.
Harris, author of Pompeii, said the news of the plans "hit me like a bombshell - I couldn't believe a limb is being amputated in that way."
The authority said it had been left with "no choice" in the face of cuts.
Planned library closures will be part of a budget proposal announcement on 15 February.
'Extremely foolish'
Newbury-based author Harris said: "Chopping away at the libraries seems to be extremely foolish, they are a vital part of our lives.
"I'm sympathetic to the dilemma the council's face my worry is that libraries are simply an easy target."
The authority said closing the libraries was something they were looking at with "a heavy heart".
The council currently runs nine libraries and a mobile library service.
It was previously thought smaller libraries would be merged to make the cuts.
The authority is to get £1.4m of government cash to ease funding cuts, it has since emerged.
Local Government Secretary Greg Clark announced a £90m increase in funding for rural councils in 2017 after complaints from local authority leaders that they're not as well funded as urban areas.