Wexham Park Hospital nurse made 'error' over police restrain death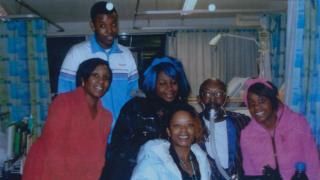 A nurse failed to raise the alarm about a patient's health hours before he died while being restrained by police, an inquest has heard.
Philmore Mills died in 2011 when police handcuffed him for being "aggressive".
The family's representative claimed Mr Mills, 57, from Berkshire, may have been suffering from hypoxia - an oxygen deficiency - causing his behaviour.
Nurse Gemma Sobejana said she did not inform doctors about his deteriorating condition.
Mr Mills, from Langley, was admitted to Wexham Park Hospital in Slough, on 21 December 2011 with a suspected chest infection.
'Know the truth'
It was later discovered he had a cancerous tumour in his lungs.
The inquest heard five days later Ms Sobejana assessed Mr Mills as an "early detection of deterioration level four" which requires doctors to be informed.
Leslie Thomas QC, representing Mr Mills' family, accused Ms Sobejana of making an "error" and "failing to raise the alarm" which could have led to a diagnosis for hypoxia explaining Mr Mills' confused and "very anxious" state.
The father-of-four then became "aggressive", causing ward nurses to call security and then police, the inquest jury heard.
After being handcuffed on the floor he became unresponsive and died in the early hours of 27 December after failed attempts to resuscitate him.
Ms Sobejana told the inquest that she did not follow protocol, but she did not think the patient was at immediate risk and put his agitation down to cigarette withdrawal.
Gerry Boyle, representing Frimley Park Hospital NHS Foundation Trust which now operates the hospital, said Ms Sobejana was a senior nurse caring for multiple patients across the hospital at the same time.
Mr Mills' daughter, Rachel Gumbs, told the hearing her father was a "very bubbly man" and the family was determined to know the truth and "put something on his death certificate".
The inquest continues.