Gunman escapes with Bracknell petrol station cash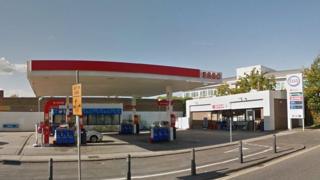 A gunman has escaped with cash following a raid on a petrol station in Berkshire.
The man pulled what appeared to be a gun from his pocket at the Esso garage in Downshire Way, in the Priestwood area of Bracknell.
He left with the money from the till in a plastic bag. No one was injured.
The man is described as black, about 5ft 10in-tall, about 20-25 years old and wearing black skinny jeans and a black jacket with fur around the hood.
He was also wearing white trainers and a white scarf covering his face.
Thames Valley Police is appealing for information.