West Berkshire school bus cuts recommended for approval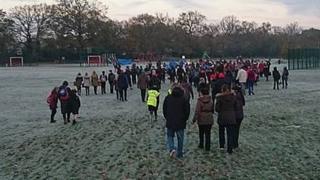 Cuts to school buses in West Berkshire have been recommended for approval, despite a campaign by parents.
The move is among 47 measures put to public consultation in November.
Thirty-eight of them will now form part of the proposed budget, as the council tries to save £18.9m after a lower than expected central government grant.
Some parents in Mortimer had said they would have to give up their jobs for the school run rather than have their children walk the "dangerous" route.
About 230 pupils will be affected by the axing of the service in Mortimer, which will save the council £123,500 a year.
The total saving for the home to school transport cuts, which also affects areas including Bucklebury and Gidley Wood, is £387,100.
Other proposals include the closure of four children's centres and cutting funding for CCTV.
The plan will be put before the council's executive for approval next week before the council meets to set its budget on 1 March.
'Seismic shift'
The authority is also holding an emergency consultation, from 15 February, on a second set of cuts - announced in response to the lower grant from central government.
Those include axing some public bus services and closing some library services.
The council had initially been expecting to implement £10.8m of cuts in the next financial year but this has since increased to £18.9m.
Council leader Roger Croft said there had been "a seismic shift in our financial position and we are now forced to take these savings".
He said it was hoped "alternative ways" would be found to provide the services, adding: "For example, many CCTV cameras are likely to be taken on by town and parish councils."