Dedworth Muslim community and prayer centre plans withdrawn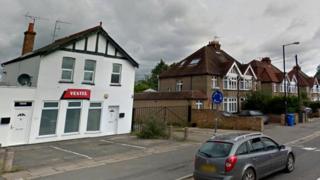 A plan for a larger Muslim place of worship and community centre in Windsor has been withdrawn.
The proposal to convert an office in Dedworth Road had divided opinion in the town, with hundreds of letters supporting and objecting to the idea.
Some objections included a fear live animals would be slaughtered on site, which the Windsor Muslim Association (WMA) dismissed as an "extreme view".
WMA is now in talks with the council to improve its existing premises.
The proposal was set to go before a Royal Borough of Windsor & Maidenhead committee on Wednesday evening and had been recommended for refusal.
As well as using the building as a place of worship, the WMA wanted to open the centre for the wider community including for after-school education, interfaith group meetings, a food bank and as a social club for the elderly.
But council officers had determined the centre's close proximity to homes, the potential noise risk and a lack of parking made the plan unfeasible.
WMA spokesman Mohammed Ariff said he was "not disappointed" by the outcome.
He said: "We understand the situation of the community because of the parking and noise issue. We took that on board."
He added the association was now in talks with the council to increase the amount of time they can spend in the existing community centre in Hanover Way.
This would be during off-peak times when the centre is not used by other services, which include a children's homework club and a citizens' advice bureau.
The council had received 151 letters supporting the application and 233 letters in objection.