Slough Copthorne roundabout upgrade to cause delays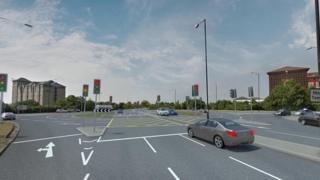 Motorists have been warned to expect long delays because of a £5.5m project to upgrade a roundabout in Slough.
The Copthorne roundabout will be turned into a so-called "hamburger" roundabout, with the main carriageway going straight through the middle of the junction.
A contraflow system will be in place until April or May.
Savio DeCruz, head of Slough Borough Council's transport, said: "We can't do the work without causing disruption."
He added: "We ask people to seek alternative routes if they can."
'Short-term pain'
Works will include adding an "intelligent" traffic light system, which senses traffic jams, and widening parts of Tuns Lane to three lanes.
Sohail Munawar, commissioner for social and economic inclusion, with a responsibility for traffic and transport, said the upgrade would "improve lives".
He added: "Unfortunately, in order to get the long-term benefits, we have to endure the short-term pain of some disruptive roadworks.
"So I ask people to please bear with us and take extra care on the roads while the work is completed."