West Berkshire bus proposal 'cutting lifeline for older people'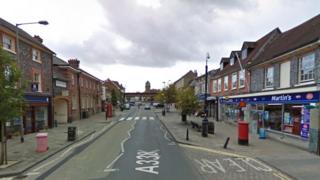 Proposed cuts to rural bus services in West Berkshire would be cutting a "lifeline" for older people in the area, campaigners have said.
Under proposals unveiled by West Berkshire council, four services would be withdrawn and six others would be "severely affected".
Current spending on bus services is around £1.4m and the council is looking to reduce the amount spent by £320,000.
The council has to find £18.9m of savings in 2016/17.
The most expensive services based on the cost per passenger journey have been targeted, the council said.
Certain services in Beech Hill, Hungerford, Lambourn and Newbury could be affected or withdrawn.
Roger Croft, leader of West Berkshire council, said while no decision had been made, he was "disappointed that the cuts have been done so quickly, because it hasn't allowed us to work with community groups and look for alternatives".
The cuts would be devastating for local communities and cutting the services would be a "false economy" as bus users benefit the wider economy, Martin Abrams from the Campaign for Better Transport said.
"If you take their lifeline away their wellbeing is really affected" he said.
The results of the proposals are expected to be published on 1 March.