Autumn completion planned for £280m Maidenhead revamp first stages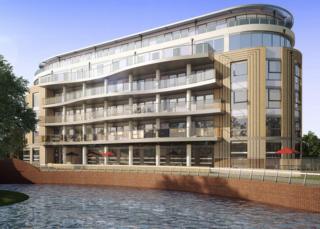 An autumn date has been set for the completion of two phases of a major £280m redevelopment in Maidenhead.
Phase one and two of the Chapel Arches project includes apartments, an amphitheatre, shops and restaurants.
Work to raise the town's York Stream canal by means of a weir to create a "fantastic waterside environment" is due to be completed later this year.
Maidenhead MP and home secretary Theresa May said the development was creating a "great buzz".
Developer Shanly Homes has also opened a new information centre for residents to keep across the developments.
The Royal Borough of Windsor and Maidenhead agreed in December to invest £3m to raise and reintegrate the town's waterways, which are currently disused.
Deputy leader Simon Dudley said the weir would enable "the water level to be raised through the whole of the waterway so you're going to have a fantastic waterside environment for some of these new developments".
In total 239 apartments will be built as well as a public amphitheatre along the canal.
Speaking at the event Ms May said: "There's a great buzz about Maidenhead now, and I think developments like Chapel Arches together with the waterways development are saying to people 'we're developing the town centre, there's a great future, come and be part of it'."
The third and biggest phase, which will include 30,000 sq ft of ground floor commercial space, is due for completion in 2018 - in time for the new Crossrail service in 2019.