Sumer Is Icumen In modernised for Reading Fun Run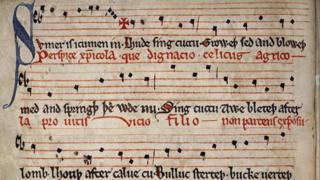 One of the oldest composed songs in Britain has been modernised for a cultural fun run event in Reading.
Sumer Is Icumen In was written at Reading Abbey in the 13th century but has been sped up for runners in a contemporary 12-saxophone version.
Composed by Oxford University associate professor of music Martyn Harry, the track is for Reading's Year of Culture fun run.
It is one of eight specially-composed pieces that runners can download.
The Sumer Is Icumen In manuscript is the oldest known musical round - a song for multiple voices entering in turn - with English words, according to the British Library.
Prof Harry said: "I wanted to do something that addressed Reading's own cultural importance.
"It is a famous piece of music...it is one of the very first pieces we have that's been notated."
Its lyrics - translated from Middle English - include "Summer has come in, loud sing cuckoo" and heralds in the warmer seasons.
Prof Harry's version however is entirely instrumental, as the sped-up tempo made it too much of a challenge to perform with lyrics.
He said: "The commission was for me to compose music for people to listen to when they run, so I chose a tempo for this piece that was a running tempo."
He said the original is usually performed at 120 beats per minute (BPM), but that his version is at 160 BPM.
Prof Harry will be also conducting the piece live with 12 saxophones, chosen for their "jocular" sound, while runners accept their medals after the run at Palmer Park stadium on 30 January.
Mark Prescott, creative director of the year-long series of events known as Reading 2016, said: "We wanted to start the year of culture in Reading with an invitation to everyone to get fit for culture.
"This unique musical event will quite literally be a fun exercise and fun exercise."