Residents criticise Wokingham Elms Field regeneration plans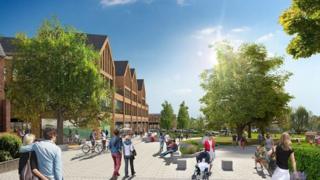 Proposals to redevelop a park in Wokingham have drawn fresh criticism from residents two years after initial plans were withdrawn.
The borough council has submitted designs for 120 new homes, shops, a hotel and a cinema in Elms Field Park.
The revised plans feature a bigger park and a smaller supermarket, after a previous plan was scrapped in 2013 following opposition from residents.
But local people and politicians are still unhappy.
Prue Bray, leader of Wokingham Council's Liberal Democrat group, said she objected to the lack of affordable housing in the proposals.
She added: "There is definitely a case for doing some regeneration in Wokingham, but it has to be the sort of regeneration that matches Wokingham's character as a market town.
"And four-storey houses on a green space are not really the answer."
Peter Humphreys, who lives in Wokingham, said the council had not made clear in its application how much green space would be lost.
He said: "The whole process is deeply flawed and will have implications for decades to come."
Philip Mirfin, council member for regeneration and communities, said feedback from residents and businesses had been incorporated into the scheme.
He said: "We're proposing to keep far more of the existing mature trees, and reduce the overall scale of development."
Facebook group, Keep Elms Field Green, has led the opposition against the proposals "on one of the last green spaces in the town".
The full suite of documents are available to view on the council's planning application webpage.