Station Road in Burnham reopened after 'experiment'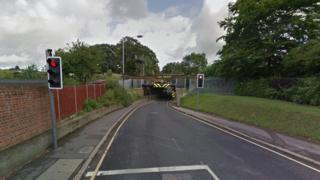 A road that was closed as part of a test for new road layouts in Slough, prompting local opposition, is to reopen in one direction.
Station Road, near Burnham station, was closed as part of a six-month experiment while Slough Borough Council assessed the impact on traffic flows.
Thousands of people signed a petition ahead of the closure, claiming it was a "vital" link for local residents.
The road will reopen northbound in February after four months.
The experimental closure was intended to allow planners to assess potential road layouts ahead of the construction of the Crossrail link.
The authority said reopening the road for northbound traffic was part of the ongoing traffic experiment.
It was previously a two-way road controlled by traffic lights.
Conservative borough councillor Wayne Strutton said: "I think it will improve things.
"What it will do is alleviate the congestion that Cippenham has been experiencing, along with Lent Rise and Taplow and the A4 and the M4 spur road at junction seven."
Burnham station is one of three in Slough that will be used by Crossrail and there are plans for its redevelopment and a multi-storey car park.
The exact date for the reopening is to be announced.