Alcohol misuse 'far greater problem' than drugs in Reading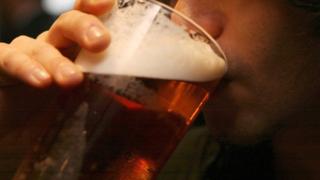 Reading's drug and alcohol services could be focussed more on alcohol abuse after figures showed the numbers of people suffering from it were rising.
Reading Borough Council said alcohol misuse affected many more residents than drug abuse and wanted to invest more in treating those affected by it.
A report by Reading Borough Council found an estimated 30,000 residents were drinking above recommended levels.
The report went before a policy committee meeting on Monday.
Reading has a population of more than 124,000.
Graeme Hoskin, lead member for health at the council, said there was "a clear need to shift the way we work".
'Hidden problem'
There is evidence of higher rates of alcohol-related deaths and an increase in hospital admissions for alcohol-related causes, the council said.
Mr Hoskin said: "It is about trying to help people take a more sensible approach to alcohol.
"It is very clear from the evidence that there is a hidden problem of people drinking too much."
The council said it was not possible to say how the current drug and alcohol budget would be affected until the full process, including appropriate public consultation, had been completed.
Emergency hospital admissions due to the effects of alcohol, such as liver disease, have also risen by more than 50% in nine years to 250,000 a year in England.
Mike Sarson, an addictions counsellor and founder of Berkshire-based charity East West Detox, said "the majority of people are in denial when it comes to drinking", with many choosing to self medicate.
He added he did not believe the council was tackling the root of the problem.