Madejski Academy special measures for a second time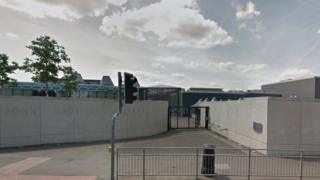 A school sponsored by Reading Football Club's chairman has been put into special measures for a second time.
In a report, Ofsted described the John Madejski Academy's leadership as "weak" and said pupils' achievement were "inadequate".
Reading Borough Council said it would work closely with the academy, based in the town, despite it not being controlled by the local authority.
Head teacher Nicola Maytum described the outcome as "a huge disappointment".
The academy in Hartland Road, which specialises in sport, was opened by Tony Blair in 2007. About 925 students are enrolled in the school aged between 11 and 19.
Ofsted inspected the school in November.
'Talented teachers'
Tony Jones, Reading's lead councillor for education, spoke of his "disappointment" of the inspection.
Head teacher Nicola Maytum said: "Despite the huge improvements that have been made over the past four years, the drop in results did shape Ofsted's findings.
"We are very fortunate to have committed and talented teachers.
"They are even more committed now so we can get out of this situation rapidly and become a good school."
Special measures had previously been implemented by the education regulator after an inspection in 2012 found it failed to give students "an acceptable standard of education".
In 2013, the special measures were lifted after the academy had made "improvements in students' learning".
The academy is sponsored by Reading Football Club chairman John Madejski and replaced Thames Bridge College, which was branded a failing school in 1998 and put into special measures.